Zaujal mne ten clanek, protoze taky pochazim z Kojetina. Me shrnuti je nasledujici: Chlap je emigrant, emigroval do zapadniho Nemecka. Ted se snazi, aby mu soucasny cesky neokomunisticky rezim vratil majetek - statek, ktery patril jeho rodicum. Jak je v Cesku dobrym zvykem, prava se nemuze dovolat. Podekujte Vaclavu Havlovi, ktery dozivotne najmenoval do funkci komunisticke soudce. Takze se snazi protestovat jak umi - treba mavanim blbym praporem, sezenim na strese, drzenim hladovky. A co si o nem mysli jeho uplne zdegenerovani spoluobcane? Ze je blazen! Pokud je blazen, tak jen proto, ze se z toho Nemecka vubec vracel! A neokomunisticky novinar o nem v clanku dokonce napise pohrdavou poznamku: "Smetana je ted bez prace, ostatne ta ho nikdy nebavila. Jeho soucasnym zamestnanim je mavani vlajkou!" Tedy jak pravil Gustav Husak: "Rozvracece potrestame, potrebujeme klid na praci!" Fuj, fuj, fuj! Jaka to zdegenerovana, mentalne zdevastovana zeme a narod! Fuj!
Stanislav Smetana (52) je podivín! Denně až 12 hodin mává těžkým obřím praporem na hlavní křižovatce v Kojetíně na Zlínsku, aby upozornil na to, že se už 13 let marně snaží o restituci statku, kde se narodil.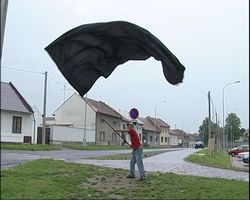 Na silnici se Smetana vydává vždy kolem osmé ranní, končí až ve chvíli, kdy zapadá sluníčko. Denně projíždí kolem tisíce aut, spousta z nich zatroubí. "To všechno jsou moji příznivci," tvrdí nejsvéráznější vlajkonoš.

"Ještě před revolucí jsem žil devět let ve Frankfurtu. V Německu se mi moc líbilo, tam protestoval každý den kdokoliv proti čemukoliv, zapomeňte na to, že je to klidné bankovní město," povídá.
Po návratu domů zažíval spoustu zajímavých peripetií. Strávil například 170 dní na střeše svého domu, aby upozornil na údajná bezpráví ostravského krajského soudu.

"Třiašedesát dnů jsem také držel hladovku," chlubí se a rozhodně nepřipomíná blázna, za něhož ho spousta místních považuje. Smetana je teď bez práce, ostatně ta ho nikdy nebavila. Jeho současným zaměstnáním je mávání vlajkou!